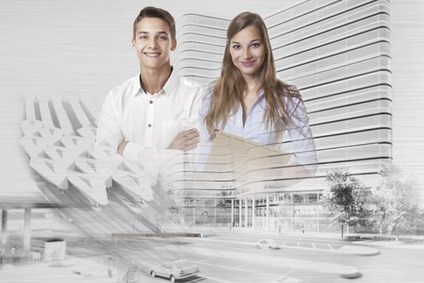 This alternative form of training has advantages for the students, colleges, and universities and the participating companies as well, as it is a type of training that builds on the close cooperation of economic stakeholders and institutions of higher education. As opposed to traditional tertiary training, students enrolled in dual training can work towards their degrees in a practical application-oriented way. Students complete their practical training at companies active in their given industry, where they can try out their theoretical knowledge at a company and gain practical experience s well.
What are the advantages of the dual training?
Dual training is an optimal combination of theory and practice.
In addition to high-quality theoretical knowledge, you can also learn about the business processes of our company and company group.
You can learn the ins-and-outs of the profession interactively from experienced professionals.
Diverse and intensive curriculum: the duration of the training is seven semesters. You can apply what you have learnt during the 12-13-week theoretical training during practical training at the company.
This will be an international opportunity for you where you can use and develop your foreign language skills and intercultural competencies on a daily basis.
You will receive an allowance in accordance with the applicable legislation during the full duration of the training, which will contribute towards your independence and will make it possible for you to concentrate on your studies.
The knowledge you acquire this way will be readily useable during your work as a company employee.
What will you learn?
You can learn about rail freight transport and the related logistics processes domestic as well as international; you can develop your foreign language skills, you can learn about multi-company project management as well. During your time in the company your tasks will be related to the description above and will match your curriculum
What do we expect from you?
We expect you to be committed to your studies and complete them to the best of your knowledge, and to register for courses as required by your college/university.
To abide by the rules of your student employment contract.
To perform the tasks assigned to you diligently and with increasing independence.
To contribute to our continuous development program with your ideas and solution recommendations.
To actively participate in teamwork.
To demonstrate a proactive attitude, openness, approachability, and confidence.
Requirements of application
You can participate in dual training if, based on your application, you have been accepted to one of the higher education programs listed below:
Budapest Business School, Faculty of International Management and Business – International Business undergraduate program (BA) – specialisation in Logistics and Transportation; Trade and Marketing
Budapest Business School, Faculty of Commerce, Catering and Tourism – undergraduate program (BA) in Trade and Marketing
Kodolányi János University, undergraduate program (BA) in Business Administration and Management; Human Resources
University of Dunaújváros, undergraduate program (BSc) in mechanical engineering
University of Debrecen, graduate program in logistics management (MSc)
University of Győr, undergraduate program (BSc) in traffic engineering
If you meet the selection requirements of our company, you can prove your abilities, motivation in person as well, where we will also test your foreign language skills.
It is important that you can only start the dual training program if you were accepted into the relevant institution of higher education and you were selected as a result of our selection process.You will receive notification on the final admission decision in accordance with the considerations specified in the government decree on the admission processes of institutions of higher education – estimated at around June of the current year.
Afterwards, you will be informed of the relevant schedules and tasks related to the dual training program in due time.

Please submit your application to the below listed e-mail address or postal address:
Application form
CV (in Hungarian and English/German languages)
Motivation letter
Copies of the final report cards of the penultimate, and the last grades
A copy of your secondary school leaving certificate (if any)
A copy of foreign language qualification certificates (if any)
Copies of any OKJ training course completions, other certifications (if any)
Undergraduate (Bachelor) degree if applying to a graduate (Master) training program
Application deadline: 19 June of the given year; 11 December in the case of cross semester training.
Apply today!