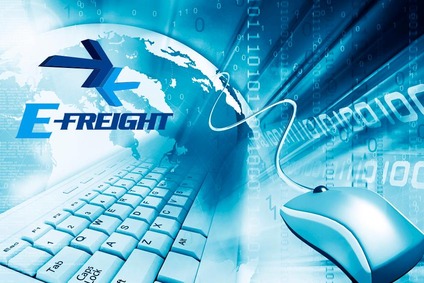 The goal of our system is the mutual electronic data-exchange in the entire technological spectrum of the rail freight transport. E-Freight is therefore 24/7 accessible online and supports the communication between our customers and our staff by its user-friendly and easy-to-use platforms.
Modules
We currently offer the following modules to our customers in the various phases of freight transport:
Preparation of carriage
Tariff calculation: Allows the preliminary calculation of freight of consignments on rail and the calculation of the distance between two domestic freight rate points.

Transport restrictions: Queries and content of Freight Transport Restrictions (FTR) imposed by Rail Cargo Hungaria are available in this module.

Discount management (E-discount): Clear, easy-to-fill forms and downloadable templates help our customers in their offer requests, and in the handling and display of already submitted offers and freight rates.
Process of freight forwarding
Wagon order: Our customers will have the opportunity to order wagons electronically; the module also allows our customers to view the arranged wagon registration number and wagon details of their wagon order, and also to track and follow wagon forwarding events until the servicing of the wagon for loading.

Electronic consignment documents: This module allows our customers to record their consignment note data electronically in Rail Cargo Hungaria's system with the help of easy-to-fill forms and downloadable templates, which eases and fastens the process of sending consignment notes. The consignment note data can be stored in PDF and XML formats, making it easier and faster to retrieve old consignment notes. The files contain every data that is included in the paper-based consignment note and can be processed electronically.

FUVARINFO (FREIGHT INFO): Our partners can keep track of the movement and the actual location of the wagons and trains employed in the carriage of their consignments. This data iscontinuously updated, and provides information about the condition of the wagons, the date and time of border-crossings as well as the status changes regarding owned or rented wagons.

FUVARINFO Batch (FREIGHT INFO Batch): We create and send freight information queries to our clients in previously specified regular intervals and with pre-defined data-content. The data-content of the Batch queries are defined by the client, the one-time expenses of the development of the query process is borne by the client.
Process of invoicing
SZÁMLAINFO (INVOICE INFO): In this module invoices prepared for our partners in PDF format and electronically processable invoice information are available. Apart from the data content of invoices, the module INVOICE INFO contains additional data to support invoice processing. Data files can be used for various tables-or invoice-processing softwares as well.

E-Számlareklamáció (E-Invoice Complaint): This module makes the management of invoice-related complaints faster, more convenient, and easily traceable.

Our INVOICE INFO and E-Invoice Complaint modules are linked, in order to support a more convenient administration.

FOLYÓSZÁMLAINFO (CURRENT ACCOUNT INFO): This service offers daily account statements to our partners of their accounts managed by Rail Cargo Hungaria.

Ügyfélbejelentés (Customer feedback): This module allows our customers to contact our system support staff directly, request information, report errors or file complaints and also to monitor the progress of their previously filed cases
Services of the E-Freight system are free-of-charge, only the development of the FREIGHT INFO Batch has a one-time expense.
The use of E-Freight is possible after concluding a service contract, which can be initiated at the Customer Service helpdesk of Rail Cargo Hungaria. Our helpful customer service staff, our continuously updated tutorials and also onsite trainings upon request support the use of the system.
In order to start using our E-Freight system as soon as possible, please contact our colleagues on one of the following contact details.
Your advantages
Free of charge
Fast, accurate service available 24/7
User-friendly, easy-to-handle
Promotes more efficient work processes
Can reduce expenses of paper, printing, storage and mail
Clear forms, downloadable templates support data entry (e.g. the filling in of consignment notes, wagon order forms)
The entire transport process is electronically supported and traceable
Contains consistent and up-to-date data
Encrypted data connection and the use of individual login name and password ensure the protection of personal data